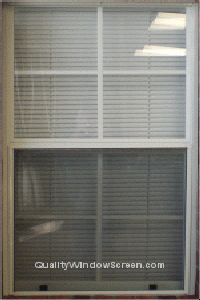 Fiberglass Window Screens Custom Made to Fit Most Style Window.
Our custom fiberglass window screens are one of our top selling window screens because of the screens affordable pricing. Fiberglass screens are the least expensive insect screen. The custom fiberglass window screens are generally used in windows on your home to keep out insects. The fiberglass screening does a great job of keeping out standard insects like house flies, mosquitoes, and spiders.
Here's what one of our customers said about our custom fiberglass window screens;

"Very satisfied. We re-screened the entire house. The screens fit perfect. There was quality built into the screens. They look great. The shipping was fast, and the packaging was out of this world. The screens were shrouded and secure inside the box. Thank you for a quality product."

Custom fiberglass window screens are very forgiving when pushed against. The fiberglass mesh springs back to its original shape unlike aluminum screen mesh that may bend or tear. The only real negative about fiberglass window screens is it typically only lasts around ten to twelve years before needing to be replaced. Aluminum screens may last up to 30 years in low use screening applications.

Our custom fiberglass window screens are factory made with aluminum frame, fiberglass window screen and internal mitered corners. Color choices are charcoal or silver gray fiberglass insect screen. Choose from five frame color choices and a wide selection of attachment hardware.
Quality New York Wire or Phifer Screen, .020 mil. Frame.
Wholesale Fiberglass Window Screen Pricing at 25+ Screens
Save Up To 50% OFF With Quantity Discounts as Listed Below
Order your custom fiberglass window screens today!
Details