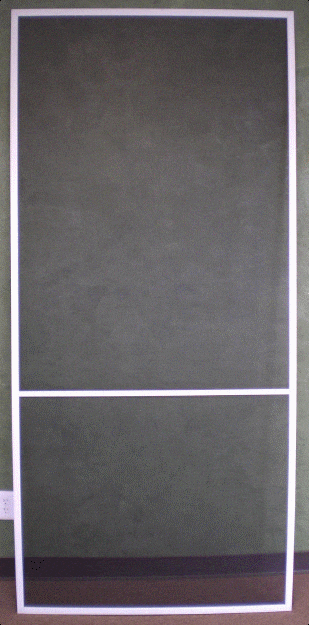 Custom Fiberglass Porch & Patio Screens Made to Your Custom Sizes.
Fiberglass porch & patio screen panel screens are the least expensive insect screen. Fiberglass patio screen panels are generally used on patios, porches, decks, and gazebos. Fiberglass screening material is great in high traffic homes with pets and children, because the fiberglass mesh is very forgiving. The fiberglass material will spring back to shape when pushed on unlike aluminum screening material which may dent or break.
Fiberglass patio screening materials do a great job of keeping out standard insects like house flies, mosquitoes, grasshoppers and spiders. It is an affordable way to screen your outdoor area to keep out most insects. Our customers like the fiberglass screening panels because they are very forgiving and they are an economical way to screen in their outdoor enclosures.
They only real negative to fiberglass porch and patio screen panels is it typically lasts around 10 to 12 years before the screening needs to be replaced. Aluminum panels will last closer to 30 years. In areas where you have grasshoppers that like to eat fabric materials the aluminum patio screen panels are a better choice. Click here for Aluminum Patio Screen Panels.
Our custom fiberglass patio & porch screen panels are made with heavier duty 5/16 thick x 1 inch (.024 ga.) aluminum frame and fiberglass standard (18x16) mesh, Pool & Patio (18/14), No-See-Um (20x20), Ultravue, and Nano 50 (17x14 - like Super Screen) material in larger sizes. They have internal mitered corners. Our five frame color choices are white, bronze, silver, tan and champagne. We also have a selection of attachment hardware to suit your screen build needs.
NOTE: Large screens should be attached securely on all sides.
You can save with quantity discounts as listed below
Order custom fiberglass patio & porch screen panels today!
Details