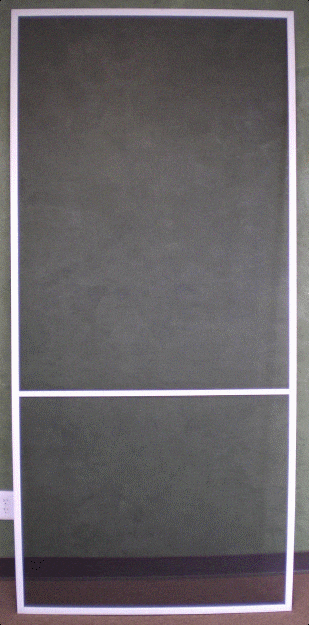 Custom Aluminum Patio & Porch Screens Made to Your Screen Sizes.
Aluminum patio & porch screen panels are best choice of screen mesh for areas that have problem with insects such as grasshoppers that might eat fabric type material like fiberglass mesh. If left undisturbed, aluminum patio & porch screen panels can last up to 30 years without having to be replaced. They are a great choice for an affordable screened in patio or porch for budget conscious homeowners.
Although aluminum screen mesh is a metal, it is very delicate. Aluminum screen installed in homes with pets or young children pushing against the screening mesh material may leave a visible mark or even a dent in the screen. The wire strands in the aluminum screening are brittle and tend to break if something falls against the screen which might puncture the screen leaving a hole.
Better Option to Aluminum Patio Screen Panels: Unless you are dealing with insects that like to eat fiberglass mesh, we recommend the fiberglass patio screen panels in active areas. Click here for more information about ordering fiberglass patio screen panels where you can choose upgraded screen mesh like UltraVue, No-See-Um 20x20, SuperScreen, and Textilene® 80.
Our custom aluminum patio and porch screen panels are made with heavier duty 5/16 thick x one-inch (.024 ga.) aluminum frame and 18x16 aluminum mesh screen material in larger sizes. They have internal mitered corners and the screen colors are charcoal, black or silver screen. Your 5 aluminum frame color choices are white, bronze, silver, tan and champagne. There is also a variety of attachment hardware to suit your needs.
NOTE: Large screens should be attached securely on all sides.
Save With Quantity Discounts as Listed Below.
Order custom aluminum patio and porch screen panels today!
Details