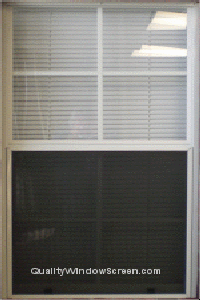 Tiny Mesh No-See-Um Window Screens Custom Made to Fit Most Windows.





Our custom No-See-Um window screen is the top selling insect screening in coastal regions. No-See-Um insect screen keeps out even the tiniest insects and bugs. Due to its effectiveness in stopping mosquitoes No-See-Um screening is becoming popular in non-coastal areas with West Nile, Malaria or other diseases carried by mosquitoes.
No-See-Um insect screen stops the tiniest bugs such as biting midgets, midgies, sand flies, punkies and other small bugs that are capable of carrying viruses, protozoa and filarial worms. Members of these tiny insect families are capable of passing through the weave of your typical standard screen mesh, but not No-See-Um Screen mesh. Protect your family and pets with No-See-Um screens.
No-See-Um Screen mesh is a mesh openness of 59% or less per square inch. It has an average aperture of .0027 (that is the opening between each strand). It is also the same mesh used in the Solar Insect Screens and will block up to 65% of the sun's radiant heat.
The No-See-Um screening 20x30 mesh count with a .011 diameter yarns is what we use on our custom screens. No-See-Um 20x20 mesh count with a .013 diameter yarn is typically used on screening in patios, porches, decks, and gazebos.
Our No-See-Um screens are factory made with aluminum frame, and internal mitered corners. Your color choices are charcoal or silver grey in the tiny mesh No-See-Um insect screening fabric. The tighter weave vinyl coated fabric keeps out the smallest of insects. You have five frame color choices; white, silver, bronze, tan and champagne with a wide selection of attachment hardware.
Quality New York Wire or Phifer Screen, .020 mil. Frame.
Wholesale No-See-Um Window Screen Pricing at 25+ Screens
Save Up To 50% OFF With Quantity Discounts as Listed Below.


Order custom No-See-Um window screens today!
Details