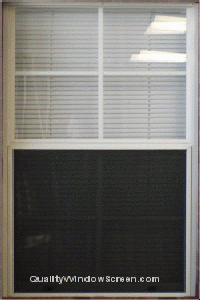 Pet Resistant Window Screens Custom Made to Fit Almost Any Style Window or Door.





Custom pet resistant screens are perfect for homeowners with over active pets scratching and clawing at the screens to get outside. Are your current screens ripped to shreds from your furry friends? Our custom made pet screens are made of PVC coated polyester yarn which has over 400 lbs breaking strength per square inch. Our pet screening product has a 10 year factory warranty against ripping, fraying, or discoloring.
Not only is our pet screening resistant to pet clawing, it will protect against no-see-um, gnats, sand flies, and other tiny insects common in low marshy and coastal areas. The finer weave of this screen mesh is about half the size of the No-See-Um screen mesh.
Our customers love the durability of this screening material. It is a perfect choice for high traffic areas like sliding patio screen doors, porches, decks, gazebos and that window spot your pet has chosen to view their dream world outside. This is a perfect screening choice for pet owners with clawing pets. Unfortunately our custom pet resistant screens will not keep your cat or dog from falling out the window. None of our screens are rated for fall protection.
Our custom pet screens are factory made to your specifications with aluminum frame, Textilene® 80 screen fabric and internal mitered corners. The screening material is a heavy duty vinyl coated screen which resists damage from pets scratching and clawing the screen.
There are five .020 mil frame color choices; white, bronze, silver, tan and champagne with a wide selection of attachment hardware. The Twitchell™ Textilene® 80 pet resistant fabric comes in Black, Brown, Dark Bronze, Beige, Grey, or Stucco to match your color needs. Yes, this is actual quality Twitchell™ Screen.
Wholesale Pet Resistant Screen Pricing at 25+ Screens
Save Up To 44% OFF With Quantity Discounts as Listed Below
Order Custom pet screens today!

HOW TO MEASURE GUIDES | HARDWARE TYPE
Details