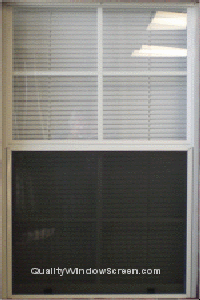 Solar Insect Window Screens Custom Made to Fit Most Style Window.
The custom solar insect window screen looks like a screen, works like a sun shade. The 20x30 mesh shades up to 65% and keeps out the small insects and provides some daytime privacy too.
Our Custom Solar Insect Window Screens worked great for one of our east coast customers. "We noticed how the solar screens cut down on the sun exposure we get. Our house lots of windows and gets too much sun so the screens help. We also get lots of bugs and the no see ums worked like a charm." If you need an economical solar insect screen then our custom solar insect windows screens will be a great choice for you.
These solar screens are made from the same mesh used in our No-See-Um Custom Screens. It gives some solar protection along with stopping the No-See-Um insects like midgies, punkies sand flies, mosquitoes and other tiny insects and bugs. You can also use this product on your screened in patios, porches, decks, and gazebos.
Is solar insect screens the best option for solar protection? No it is the low end on the solar protection. The Textilene® mesh fabric materials are the best. For the cost, Textilene® 80 Solar Screens are your best solar screen option. Click here for more on Textilene® 80 Solar Screens.
Remember when ordering, to get the full effect of solar protection you have to cover up the entire window to stop the sun's radiant from causing heat gain through the window.
Our custom solar insect window screens are factory made with aluminum frame, solar insect window screen and internal mitered corners. Your color choices for screen mesh are charcoal or silver gray solar insect screen. Choose from five frame color choices; white, bronze, silver, tan & champagne and a wide selection of attachment hardware. Order today!
Quality New York Wire or Phifer Screen, .020 mil. frame.
Wholesale solar insect window screen pricing at 25+ screens
SAVE up to 50% off with quantity discounts as listed below.
Details