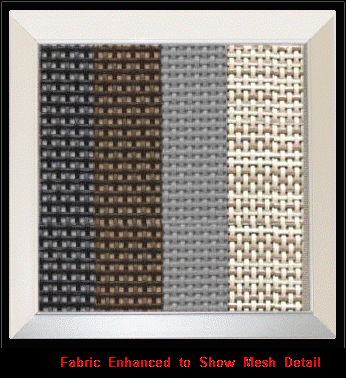 Our custom Textilene® 80% solar screens are factory made with Twitchell™ Textilene® 80 Solar Screen fabric. Twitchell™ is a world leader in solar screens. The Twitchell™ Textilene® 80% solar screen mesh blocks approximately 80% of the suns radiant heat before it reaches the window in an outdoor application. It can reduce your cooling portion of your electric bill up to 30%.
Textilene® 80% Screen is typically used on the sides of the home that receives direct sunlight. We find that all color screen mesh works to shade from sunlight but the darker colors work best for outward visibility. If your goal is to reduce heat in your house, you must screen the entire window.
Here's what one of our customers said about this solar screen; "Just a followup - the screens were perfect, the clips worked well. Thanks! We can already tell a difference in the coolness of our "hot side" of the house. Well worth the price and your service was excellent. Thanks!"
The Textilene® 80% screen mesh's uniform weave design offers excellent outward visibility and good ventilation. The mesh allows natural light to come into your home and allows great outward visibility with some daytime privacy. People still might be able to see silhouettes. It also provides enough light for your indoor house plants while providing enough UV protection to keep your drapes, blinds, furniture and flooring from fading. The fabric is also pet resistant. Textilene® 80% screen fabric is woven from extremely strong and durable vinyl-coated polyester yarns. The mesh was originally developed for outdoor furniture and is mildew and fade resistant and only needs an occasional cleaning with mild soap. Textilene® has UV inhibitors to keep it from fading or rotting upward to 25 years in the direct sunlight with a manufacturer warranty of 10 years.
Textilene® 80 solar screen is available in a choice of six earth tone colors; black, brown, beige, dark bronze, grey and stucco. There are five frame color choices and a wide selection of attachment hardware to meet most any needs. For solar screens we recommend the heavy duty 5/16 x 1" or 7/16 x 1" window screen frame. These window screen frames are sturdier than your average window frame. We also recommend cross bars for solar screens. This is a great screen choice for those looking for durable window screen.
Save Up To 30% OFF With Quantity Discounts as Listed Below.
Order a Custom Textilene® 80% Solar Screen today!
Details