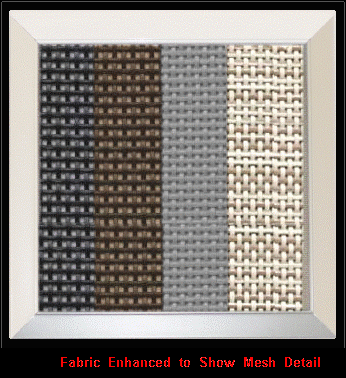 Our custom Textilene® 90 solar screens with Twitchell™ Textilene® fabric, a world leader in solar screens, can reduce your cooling portion of your electric bill by 30%. The Textilene® 90% solar screen mesh blocks approximately 90% of the suns radiant heat before it reaches the window in an exterior application. Our solar screens are factory made with heavy duty .024 mil. aluminum frame with recommended larger frames choices. The Twitchell™ Textilene® 90 is a fabric woven of extremely strong and durable vinyl-coated polyester yarns. Textilene® 90% is pet resistant, it's made of PVC coated Polyester. It has UV inhibitors to keep it from fading or rotting upward to 25 years in the direct sunlight. Twitchell™'s Textilene® Warranty is 10 years.
Compared to Textilene® 80%, Textilene® 90% does not allow much natural sunlight to enter your home. Textilene® 90% is commonly used on media room windows to reduce glare. This solar screen is also good for homes that are located in desert regions or for bedroom windows of daytime sleepers. The cooling effects on the Textilene® Solar Screen 80% and 90% are virtually the same. They both will cool your rooms up to 15 degrees depending on the efficiency of the home. You must screen the entire window to achieve maximum solar screen efficiency results
Textilene® 90 solar screen is available in a choice of six earth tone colors; black, brown, beige, dark bronze, grey and stucco. There are five frame color choices and a wide selection of attachment hardware to meet most any needs. For solar screens we recommend the heavy duty 5/16 x 1" or 7/16 x 1" window screen frame. These window screen frames are sturdier than your average window frame. We also recommend crossbars for solar screens. This is a great screen choice for those looking for durable window screen that provides great glare protection especially for media rooms.
Save Up To 30% OFF With Quantity Discounts as Listed Below.
Order a Custom Textilene® 90% Solar Screen today!
Details