Solar Screen Material Explained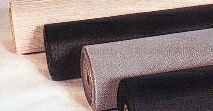 What is Solar Screen Fabric?
Solar Screen is a special window screen mesh that is specially designed for Sun Control. It is the most effective way to Control the Sun's Heat and Glare by stopping it before it enters your window. Much like a big shade tree, exterior solar screen will help reduce your cooling costs, can reduce the load on your air conditioning and will help reduce glare and fading of home furnishings. Advanced solar screen fabric is extremely durable and pet resistant. We only sell material manufactured by Twitchell™ Corp.
What are Solar Screen Benefits?

Cools Your Home or Other Living Space. Solar screen on windows can cool problem rooms up to 15 degrees in warm climates making the home or other living area much more comfortable in the hot summer months.

Reduce Cooling Energy Costs. Independent Studies have shown that solar screen installed on exposed windows can reduce the cooling portion of electric energy costs as much as 30-35% on a typical home in a warm climate. In many cases the 'payback' period can be as short as 1-2 years.

Protection from Fading. The UV rays blocked by solar screen can help protect your valuable home furnishings such as furniture, drapes, floors and paintings.

Daytime Privacy. With solar screen on your windows, it is very hard, if not impossible for people to see into your home during the daylight hours. Much like dark sunglasses, even though people can't see in, outward visibility can be excellent, especially with the darker color (black, brown or dark bronze) Textilene® 80 Solar Screen.

Reduced Glare. Solar screen helps reduce the glare coming in through the windows. This benefit can be very beneficial in the family television, media room or home office.
How Does Solar Screen Do All That?

Solar Screen Material cools and protects by reducing heat and UV rays in 3 ways.
They Block the sun's hear and UV rays, Absorb the heat and Dissipates it with the airflow through the screen.

The Textilene® 80 Solar Screen Chart illustrates how the heat entering the home is reduced by a very substantial amount.
Is it Just for Windows? There are several applications other than just windows that solar screen is used to solve heat problems. Many homeowners are using solar screen for these applications:
Screened in Porches
Patio Shading
Gazebos Shading
Skylights
What Type of Solar Screen is Available?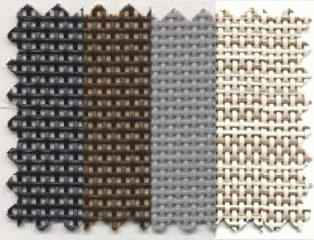 Textilene® (either 80% or 90%) Solar Screen fabric by Twitchell™ Corp. It is an extremely durable PVC coated polyester fabric. So tough it can be nailed, stapled, sew it together and install grommets. Textilene® Solar Screen is also Pet Resistant.
Twitchell™ Textilene® 80% Solar Screen

Textilene® 80% Solar Screen is designed to block up to 80% of the sun's heat. 80% is a lot of heat blockage. It is works very well in cooling most areas as it cools as very well, lets in a lot of natural light and has the best outward visibility. The best outward visibility is with the darker color solar screen fabric: either black, brown or black/brown.
Twitchell™ Textilene® 90% Solar Screen

Textilene® 90% Solar Screen is designed to block up to 90% of the sun's heat. This is the highest rated solar screen in terms of heat blockage. The 90% may noticeably darken the rooms and outward visibility may not be as good as 80%, especially looking at an angle. The 90% solar screen does block more glare and provides better daytime privacy.