Solar Screen Material Explained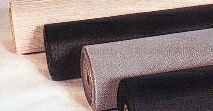 What is Solar Screen Fabric?
Textilene ® solar screen fabric is a distinctive solar window screen made of an extremely durable, synthetic fabric. This sunshade fabric is made of PVC-coated polyester and specifically engineered to reduce the heat transfer that happens through windows. A form of sun control, compared to window tinting, solar screens are far more efficient as well as effective in both shading and protection.
Much like having a full-grown shade tree (but without the hassle of branch trimming, falling leaves, and other such struggles), exterior solar screens can reduce cooling costs, the workload on your central A/C or A/C unit, remove glare, stop the fading of fabrics, carpets, and harmful UV ray damage to interior décor, and remain incredibly durable as well as pet-resistant.
True, genuine Textiline is manufactured and created by the highly trusted Twitchell™ Corp. Since the Twitchell name's beginning in 1922, it has been synonymous with quality yarns and fabrics across global industries, creating some of the world's most scientifically innovative fibers and textiles profiles, in addition to extrusions and coatings. As such, all of our solar screen fabric is directly sourced from them, ensuring our customer's exceptional quality solar screens.
What are Solar Screen Benefits?

You may be wondering what makes a solar screen so special, and what possible benefits such a screen could bring to a homeowner. Let us break down some of the fantastic, money-saving, energy-saving, cost-efficient, and health benefits a solar screen can give you.
Cools your home or other living space. The solar screen on windows can cool problem rooms up to 15 degrees in warm climates making the home or other living area much more comfortable in the hot summer months.
Significant temperature reduction. Have you ever opened the blinds during a particularly sweltering summer day during the brightest time and felt how much heat had collected near the window? Or how hot to the touch the window glass was? What about how much warmer it was simply standing in a sliver of sun that was beaming through a glass window?
Heat radiates into your windows, diffuses, but cannot escape again which causes the area inside to heat up and create a much more heat-intensive space by a window. With a solar screen protecting your windows from the sun, anywhere from 80% to 90% of that heat is blocked from your windows and can cool problem rooms up to 15 degrees in warm climates making the entire home or a living area with a problem window much more comfortable in summer.
Energy cost reduction. Independent studies on East, South, and West facing windows with both 1/8" clear standard glass and Textilene solar screen show a significant reduction in electric energy used by central A/C or A/C units. With cooler temperatures inside, an A/C unit does not need to run as hard or as continuously. Energy and electricity costs with solar screens can fall as much as 30-35% in an average home situated in hotter climates.
Fade and sun damage protection. Your décor inside your home can become sun damaged through a window. UV rays alter the color of furniture and carpets because they alter the chemical bonds in some objects if exposed for long periods. Ultraviolet radiation can break down bonds used in furniture as well, causing the appearance of bleaching and fading.
If you have a full sunroom filled with beautiful, handmade, or heirloom quality furniture or commercial space with brand new décor, the idea of having to replace it or refinish it entirely in a few years is no doubt daunting. By using solar screens, you can protect your interiors from UV damage.
Daytime privacy. Solar screens across a window during the day can allow you to enjoy almost full privacy. It is extremely difficult for someone outside to be able to see in and see-through solar screens. You can see outside, but others cannot see in. With Textilene® 80% solar screen, especially the darker colors such as black, brown, or dark bronze, outward visibility remains excellent while visibility into your home remains virtually non-existent.
Glare reduction. Natural sunlight is an excellent means to open a room and make it feel bright and airy. But direct sunlight with its exceedingly bright glare can become uncomfortable, quickly. With a solar screen, that glare is reduced and, in some cases, almost entirely gone. This benefit makes having a solar screen installed in your favorite PC gaming room, living room, and television, or a home office exceptionally excellent.
Where Else Could Solar Screens be Used?
There are several applications other than just windows where a solar screen is used to solve heat problems. Many homeowners are using the solar screen for these applications:

Screened-in porches.
Patio shading.
Gazebos shading.
Skylight heat and glare reduction.
What Type of Solar Screen is Best for You?
Twitchell™ Textilene® 80% Solar Screen
80% Textilene® solar screen is available in beautiful colors carefully chosen to best match exterior home décor such as:
Black
Black/Brown
Brown
Beige
Desert Sand
White
Grey

Choose from a vast range of widths, width fractions, height, height fractions, frame sizes, and even frame colors as well as crossbar or hardware for a flawless, gorgeous installation. At 80%, a solar screen will allow you to see outward and enjoy the view of your backyard, front yard, or any vistas outside your window while shielding you from glare, allowing heat to dissipate and helping to cool whatever area where installation has occurred. The 80% Textilene® solar screen material is the best for those that want the benefits of lowered energy cost and cooler temperatures without sacrificing the view. Because of Textilene® PVC coating the fibers of this screen, these are also pet resistant and pet friendly.
Twitchell™ Textilene® 90% Solar Screen
The Textilene® 90% solar screen option is the ultimate for night-shift workers, daytime sleepers, and those who want the most significant blockage of sunlight as well as heat in an area or their home. Available in these stunning colors:
Brown
Black
Black/Brown
White
Grey
Desert Sand
Beige

The same impressive range of widths, height, crossbar location, any hardware types, and frame colors you may need along with our Textilene® 90% solar screen as detailed above is also available. The difference between the 80% and 90% Textilene® is that 90% solar screens block out all but the tiniest fraction of sun, ensuring a darkened room no matter what time of day and reducing heat and UV rays even more than the previous solar screen at 80%. This solar screen is also exceptional for privacy unlike the 80%, it is more difficult to see out a window or glass with a 90% screen.
Order your solar screen now to save big on energy consumption, electricity bills, and feel cooler and more comfortable today! Questions and comments about solar screens? Contact us, we'd love to help you.