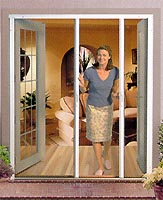 Roll-Away® Retractable Door Screens offer the ultimate screen solution. Designed to provide comfort and convenience.
Roll-Away® screen doors are easily installed and will last the lifetime of your home or building. a pleasure for everyone that uses them. Functionally designed individual parts perform their own functions without intruding upon each other.
Roll-Away® Retractable Door Screens are the best option for Double French Doors. A unique feature allows one side to be temporarily locked into position. This important feature greatly simplifies entry and exit by opening only one side when desired.

CUSTOM MADE TO FIT
Roll-Away® Screen Doors are custom made and are available to fit practically every type and size door. The retractable screen housing can be ordered to mount either in the jamb recess or surface mounted to meet your door needs.
TWO LATCH OPTIONS
Auto-Latch mechanical latch prevents accidental closing when touching screen. Positive secondary lock keeps product locked from inside of house.

Magnalock magnetic latch styles make closing simple but effective. Keeps insects out with positive full length magnetic seal.

EASY TO INSTALL
With a complete hardware package and instructions, the typical Roll-Away® Retractable Screen can be installed in minutes, not hours.
TWO STYLES AVAILABLE
See the descriptions of both retractable door screens below.
Both are available in in Bronze, White, Satin, Black, Desert Sand or Almond finishes
Roll-Away® Double French Retractable Screen Door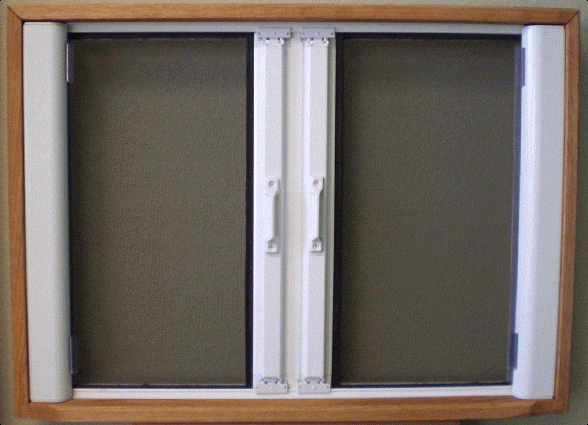 The Roll-Away® Double French Door Screen features an Astragal Lock for one side allowing easy entry and exit through one side of the door. Unique feature not found on most rolling screen doors.
Can be mounted in the recessed door jamb or surface mounted.
Two Locking Options available.

Roll-Away® Single Retractable Screen Door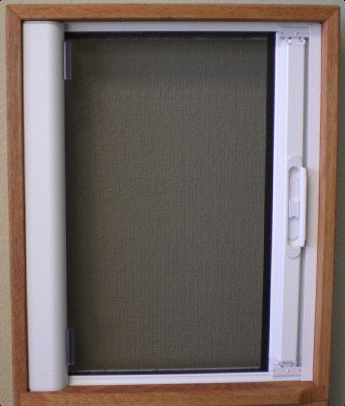 Both Roll-Away® Retractable Screen Doors feature a 1-7/8" Profile Rounded Housing, High Quality Aluminum Components and Heavy Duty Charcoal Fiberglass Screen .
Can be mounted in the recessed door jamb or surface mounted.
Available in Six Popular Colors.
Smooth Gliding Adjustable Roller Guides
Limited Lifetime Warranty.

Featured Roll-Away® Retractable Screen Doors
How-to Guides