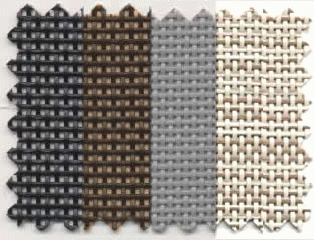 Finally, You Can Get Less Than a Full Roll of Top Quality Phifer Suntex 90 Solar Screen!! Now You Can Buy Phifer Suntex by the Linear Foot.
Suntex 90% solar screen material provides the ultimate heat/UV blockage and daytime privacy with a little loss in outward visibility. Suntex 90 Solar Screen Fabric is woven of extremely strong and durable PVC coated polyester yarns. The uniform weave design offers good outward visibility and ventilation. Shading is approximately 90% and SunTex is available in a choice of six earth tone colors. The fabric is also pet resistant making it ideal for use in doors and full-length screen panels. Suntex 90 may be desired in desert climates or when the best daytime privacy is important.

Less than Full Rolls are Special Cut and are Non-Refundable.
Minimum of 10 Linear Feet per Order.
(Use quantity field to select length)
SPLINE SIZE GUIDE
Details