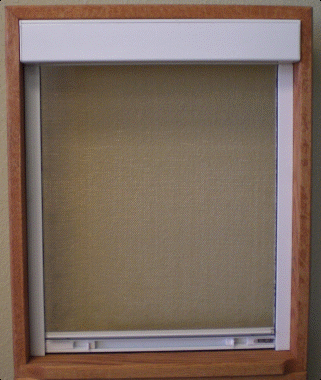 Roll-Away Retractable Window Screens are Custom Made to Fit Almost any Style Window.
The Series 2000 Retractable Window Screen Features:
- Larger 2 5/16" Wide by 2 3/8" Tall Top Roller Housing.
- Two Handed Dual Locking Drawbar With Positive Locks Every 12 Inches.
- Made With Brite Bronze 18/14 Mesh Wire Screening For Lasting Durability.
- Bronze Screen Weathers Over Time to a Dark Bronze.
- Slide it Down When Your Window is Open.
- Slide it up into Housing, Away From Dirt, Damage and Oxidation.
- Lasts Longer, Admits 20% More Light than Outside Window Screens.
Available in Bronze or White finishes Only.
MEASURING GUIDE - 2000 SERIES RETRACTABLE SCREEN
Details