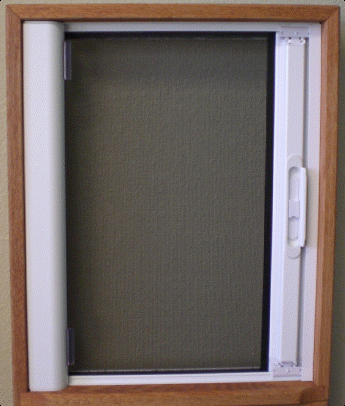 Roll-Away Single Retractable Screen Doors are Custom Made to Your Screen Door Sizes.
Do you need a screen door on your back porch or patio to keep the bugs out and enjoy the evening breezes? Well the Roll-Away Single Retractable Screen Door is a perfect solution for that patio door. This screen door is relatively easy install for any home owner and doesn't require any specialty tools or advanced carpentry skills to install. So if you have a door on your patio, porch, gazebo, or anywhere else that needs to be screened in to keep the insects out, you should try a Roll-Away Single Retractable Screen Door. This product will let you screen just about any door.
Retractable Screen Doors at Quality Screen Co. are designed to preserve window and door view while blocking flies and other insects. Rollaway disappearing screen doors are made to easily roll out when in use and smoothly roll away when not. We offer great low prices on retractable screen doors. Shop now!
The Roll-Away Single Retractable Screen Door Features:
Compact 1 7/8" Rounded Roller Housing.
Easy to Install and Maintenance Free.
Special Heavy Duty Charcoal Fiberglass Screen Fabric.
Mechanical Locking AutoLatch.
Smooth Gliding Adjustable Roller Guides.
Inside Jamb or Surface Mount Options.
Limited Lifetime Warranty.
Shipped Un-assembled for Easy Installation.
Available in Bronze, White, Satin, Black, Desert Sand or Almond finishes.
Order and buy the Roll-Away Single Retractable Screen Door today!
Details