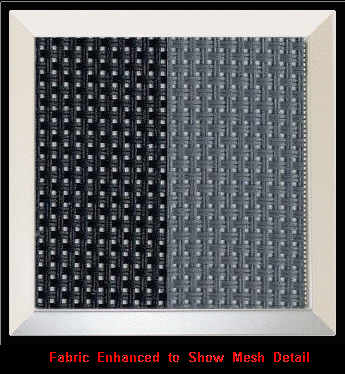 The ultimate in sun shading – Super Solar 90
Our custom super solar 90% solar screens are the ultimate replacement window screens. They are super sturdy and provide maximum sun shading because of the Phifer Super Solar screen fabric. This screen fabric blocks up to 90% of the suns radiant heat before it reaches the window in an exterior application. Super Solar 90% gives the best glare protection of all solar screen products we carry in stock. Phier is a world leader in Solar Screen materials.
These replacement window screens made with Phifer Super Solar 90% screen mesh are great for media rooms that need superior glare protection. Super Solar 90% is a much tighter weave and will make the inside of your home noticeably darker. So another great choice for people that must sleep during the day because the work they day shift. If your home is in a desert region, then these screens are a perfect choice to keep your home super cool and protect your homes interior from UV rays. Phifer Super Solar 90 improves air-conditioning efficiency by stopping up to 90% of the sun's heat before it penetrates the glass surface.
Super Solar 90% is a little thinner than Suntex solar fabric products but still has the same or better sun shading protection and cooling effects. This product is not pet resistant and does not last as long as Suntex but provides better sun shading. So if your goal is the darkest shading this is a great choice for you. Super Solar Screening also improves daytime privacy and reduces glare while allowing natural ventilation and good outward visibility. Remember, it does not provide complete privacy. You may still see silhouettes.
Our replacement screens are factory made with heavy duty .024 mil. aluminum frame. The Super Solar 90 screen color is charcoal. The screen mesh is 40x40 vinyl coated polyester. There are 5 frame color choices and a wide selection of attachment hardware to meet most any needs. We recommend Crossbars for all Solar Screens.
Save Up To 30% OFF With Quantity Discounts as Listed Below.
Order Custom Super Solar 90 Solar Screens today!
Details