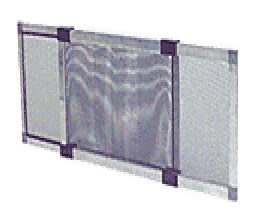 Adjustable Window Screen is easy to install in seconds without the need of tools or fasteners. It can be used in wood, metal or vinyl double hung windows. It will fit most windows within the dimensions listed and is a very versatile window screening solution. Adjustable screens are a very economical and easy way of screening a window without having a custom made screen. Adjustable screens are perfect for high rise apartments, historical homes with strict architectural zoning for quick and easy screening needs.
The adjustable window screen has a 5/16 inch silver (grey square cut corners), white (white square cut corners), bronze (bronze square cut corners) finish frame with charcoal fiberglass screen wire, and black retainer spline. The screen has a width adjustment of 25 to 47 inches and 20 inches tall. The unit comes completely assembled so all you need do is place in the window opening and adjust the width.
Order our adjustable window screens today!
Details